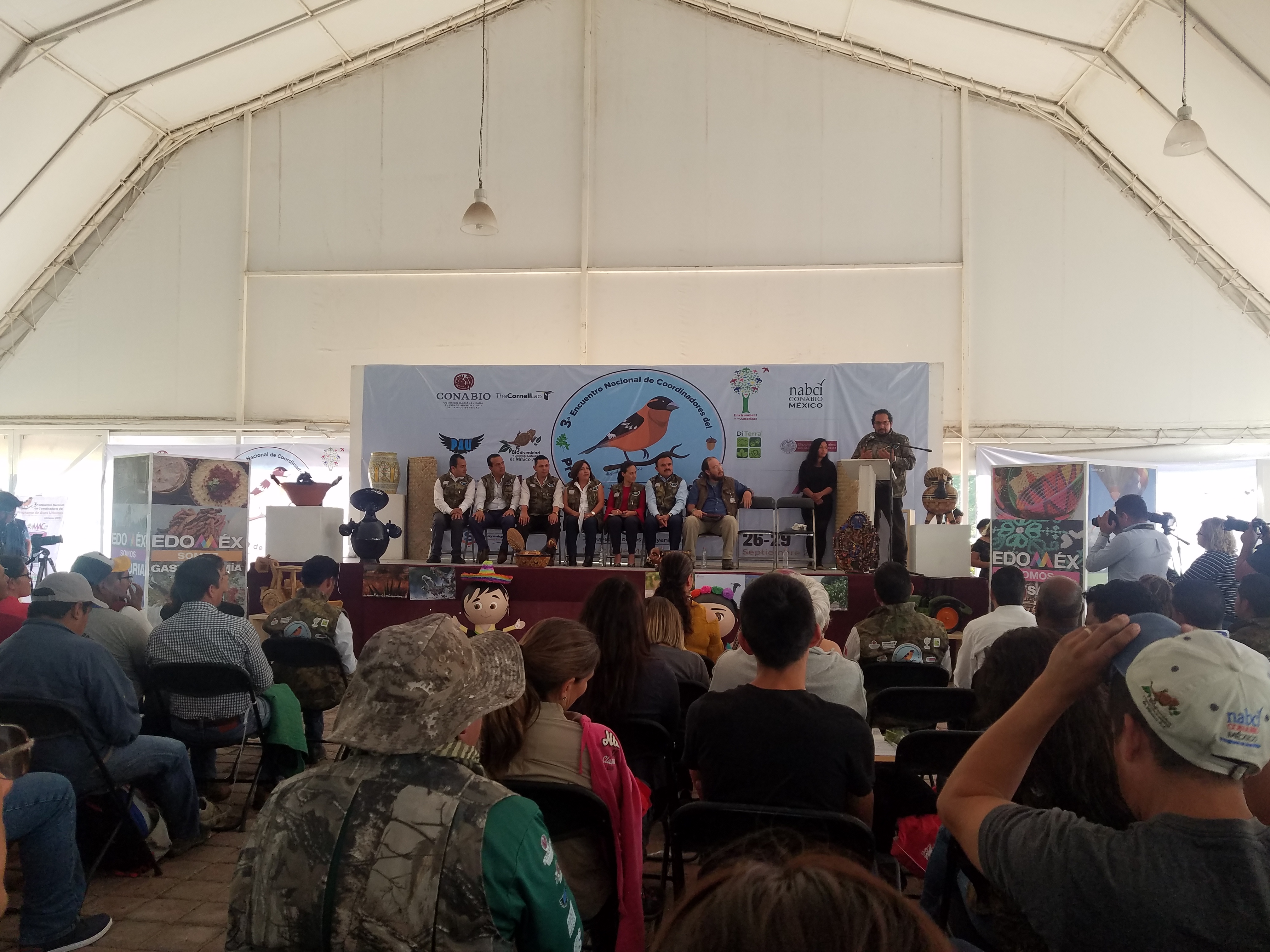 Sedes:
Jilotepec, Morelos and Soyaniquilpan, Mexico State.
Pogram:
Urban Birds Program for Mexico
From September 25 to 29, 2019 we were present at the 3rd National Meeting of Urban Bird Program Coordinators which was held in Jilotepec, in the State of Mexico, where we shared experiences with other coordinators from all over the country. This meeting was organized by Biodiversidad y Desarrollo Sostenible de Jilotepec, A.C., NABCI and CONABIO, and where other international institutions such as Audubon Great Lake, Cornell Lab of Ornithology, Environment for the Americas, Field Museum y Forest Service participated.
During the meeting, there was the participation of civil associations, bird watching clubs, universities, museums, ecological parks, botanical gardens, government agencies and the community in general, with more than 160 volunteer coordinators and trainers from about 60 cities in 27 states of Mexico.
This meeting aimed to share experiences and results on the implementation of the project in the different cities of the country and strengthen knowledge with the presence of experts on issues related to the main axes of the project: Observation, monitoring, registration and environmental awareness and of course collaboration on projects that involve citizen participation in nature conservation actions.
Of the main activities of the event, we can mention that work tables were held to design projects such as bird gardens, Birdwatching, Action Guide II, Theoretical-practical courses for children and young people, Urban monitoring for volunteer coordinators and citizens; and records for the eBird and Naturalist platforms.
Likewise, during the event we presented the work we have done as Urban Bird Program Ensenada, where our actions are mainly based on collaboration with other institutions, such as Correcaminos: Observación de aves, Contacto Salvaje, Investigación Aplicada a Socioecosistemas A.C. y Terra Peninsular A.C. It is worth mentioning that through bird watching activities we encourage citizen participation, we also generate data that will allow us to know the diversity of the birds in our region, this information is directly uploaded to the eBird platform. Thanks to the actions carried out in our community, we have registered 5302 individuals of 134 species of birds, which have been registered in 38 listings on that platform and have managed to involve approximately 120 people during the different activities.
We are convinced that involving the community in the knowledge and appreciation of the birds of our region helps us to achieve the main objective that is the conservation of this group of animals. That is why it is very important for us to continue working on the involvement and promotion of citizen science through bird watching, being this one of the main activities carried out in our country and the world. In addition, it is worth mentioning that it is an attractive and charismatic way of bringing people closer to nature.
Photo gallery: